Rocky Ridge has years of experience hauling material, we can offer you high quality service.
-Single dump trucks, truck and pup, and a side dump are all available. 
-Experienced and safe drivers.
-Clean, inspected, and road safe trucks.
-Prompt and efficient service.
-We care about your job and will give you the best service possible!
-Can do haul-offs, and haul in road base, pit run, fill dirt, and more.
-Equipment transport: forklifts, backhoes, loaders anything you might need moved we can  move!
Call us for pricing and more info!  (435-867-1368)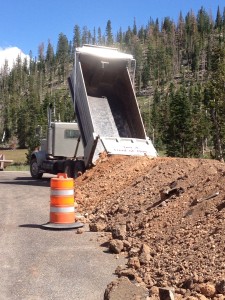 Drivers will make every effort to place material where Customer designates. Haul charges are based on a readily accessible road to the point of discharge. ROCKY RIDGE ROCK cannot accept responsibility for damage caused by our equipment to curbs, gutters, sidewalks, driveways, lawns, trees or other personal property. Customer or Agent agrees to indemnify and save harmless ROCKY RIDGE ROCK from liability imposed as a result of damage caused to the property of others as a result of such delivery and for any care and cleanup resulting from track-out.